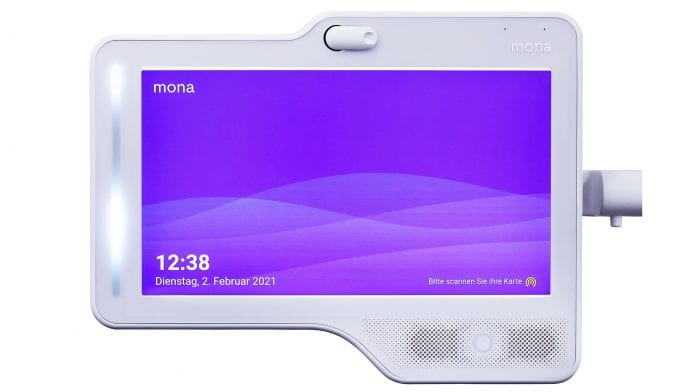 Mona is an AI device that acts as a bedside assistant in intensive care units to help reduce administration and improve patient care.
As hospitals face the strain of a global pandemic, the use of AI bedside technologies could change the face of healthcare, allowing patients to be treated in a more time efficient and detailed manner. The recent pandemic has shown how easy it is for hospitals to become overwhelmed with patients, an issue that will only be exacerbated by the continual growth of the world's population and so the medical community is seeking solutions to the problem. One such solution lies in AI. Clinomic's Mona is a unique AI system, designed for application in intensive care units. It collects patients' data and uses AI to support clinical decision making and responsively relay aggregated data, instantaneously speeding up the currently lengthy process of consulting computer systems or physical files.
To begin, can you tell me where the idea for Mona came from and why you chose to focus on supporting ICU units in particular?
The idea for Mona came from our own experience; myself and Lukas, the other CEO, are both qualified, practicing intensive care unit (ICU) doctors and we saw first-hand that the infrastructure of the ICU was dated and unsustainable. The ICU is a highly complex field of healthcare that relies heavily on the constant monitoring of various data points in order to keep the patient alive. These data points grow exponentially, and the ICU doctor needs to be able to follow, digest, assess and make decisions based on this data. What this means in practical terms, is that an ICU doctor has to spend the vast majority of their time sitting in front of a screen instead of treating patients, providing them with information or comforting them.  It was our vision that Artificial Intelligence, and a virtual assistant, could help to solve these challenges and enable ICUs to run in a much more efficient way. Through EIT Health, we were able to set this up as a project, receiving funding as well as gaining access to European partners that could help us to develop the idea, build our solution, validate the technology, and launch a spin off start-up company to front the sale of the solution.
How is the data which informs Mona's programs gathered? What measures are in place to ensure data security?
With Mona, no data ever leaves the hospital, and an internet connection is not required, eliminating the possibility of security breaches through the web. Mona is the first integrated hardware-software platform, specialised for the intensive care domain, and data security and integrity is the most important design principle in our software. The hardware terminal is equipped with state-of the art technology, including a 5G module, radar sensors and Artificial Intelligence chips from NVIDIA. The system works independently from the hospital's existing infrastructure and enables highly encrypted telemedicine, even when network connectivity is sub-optimal. A specialised high-resolution fisheye camera enables crystal clear 180° vision, so the clinician can see both the patient and the caregiver, allowing remote monitoring and limiting infection risk through transmission of illnesses such as COVID-19. The eight-microphone array allows any remote consultant to accurately hear the patient or their caregiver as they discuss symptoms. The data that informs the AI is gathered from all of the necessary hospital departments including vital signs, lab results, radiology, and doctor notes which are then aggregated into a common repository which feeds the Mona system. At present, the system does not link up with other data sources outside of the hospital such as population data or wearables due to the strict legal and data protection requirements.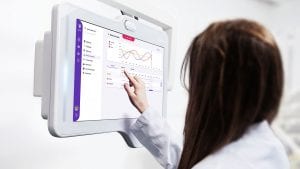 What key features are necessary to ensure AI programs are human-centred?
Mona works like a virtual assistant and talks like a colleague. It is voice activated so that doctors and nurses can easily access the services without needing to take off their gloves or risking any cross contamination as various members of staff may access the same patient's system. The system documents information relating to the patient and delivers that information at appropriate timepoints to aid the process of ongoing care. It also works responsively, you can ask it a question at any time, and it will tell you everything you need to know such as "What has happened over the last 24 hours?" or "Did we document everything according to procedure?" This feature enables a reduction in the time needed for handoffs at the start and end of shifts, instead of the two clinicians needing to talk through every patient they can just ask Mona and she will provide all the necessary information, test results and treatment logs. Mona can also connect you with other healthcare providers anywhere in the world, facilitating collaboration between clinicians via a secure telemedicine platform. This is particularly useful when, for example, you would like to consult an expert on an illness who may be based at another hospital, instead of having to call you can directly link and they can visually examine the patient, providing you with accurate advice and counsel on a patient's condition. The Mona solution has been developed by ICU doctors, for ICU doctors, and we have an ongoing team of doctors that feed into the further development of the system. This is done in the form of an iterative process, whereby we assess feasibility and demand for new or changed features in a controlled way, as is necessary for a certified medical product.
How do you expect smart bedside devices like Mona to redefine the role of the healthcare professional?
The demand for healthcare is growing exponentially, especially in the wake of the recent pandemic. Healthcare resources, including doctors and hospital budgets, cannot grow in line with the demand and there will come a point in time where the industry can no longer meet this demand. Smart solutions such as Mona are crucial to solving the issue of unsustainable demand within healthcare, allowing doctors to treat more patients and spend less time trawling through data and paperwork. We have to make healthcare more efficient, more data-driven, more connected and utilise the time of specialists in the right way. It does not make sense to have a specialist sitting behind a screen all day looking at data that an AI can analyse in seconds. As outlined in the recent EIT Health report on AI in healthcare, AI will not replace the role of the healthcare professional, but it will augment it.
Dr med Arne Peine, MHBA
PD Dr med Lukas Martin, MHBA
CEOs
Clinomic
www.clinomic.ai
This article is from issue 18 of Health Europa. Click here to get your free subscription today.
Recommended Related Articles