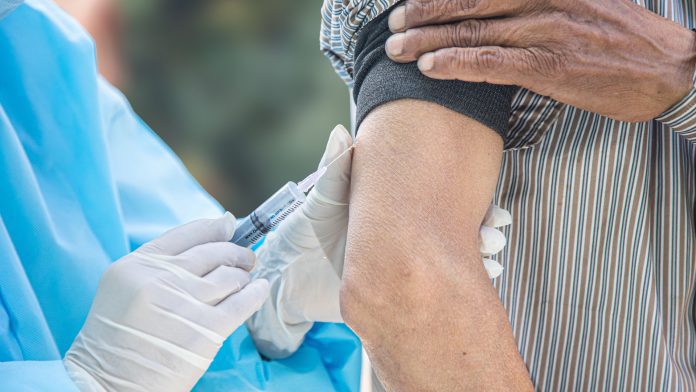 The NHS has launched a new online monkeypox vaccine site finder to make it easy for eligible people to book their immunisation.
Monkeypox is a rare infection commonly found in west or central Africa. The increase in cases seen in the UK has led to a widespread plan to tackle the virus quickly. To do this, the NHS has now introduced a new online vaccine site finder to make it easier for eligible people to get their monkeypox vaccine.  
Nearly 50,000 people have had their monkeypox vaccine since the NHS rolled out the programme once the first cases were identified.  
Online website to book monkeypox vaccine
The UK Health Security Agency (UKHSA) and the UK Consensus Group estimate around 95,000 people in England are eligible but only half have been in contact with sexual health services. Eligible parties include high-risk gay, bisexual and/or men who have sex with men (GBMSM), along with specific frontline staff and those who have been in close contact with a confirmed case.  
The monkeypox vaccine site finder for booking the vaccine means anyone eligible can find their nearest location and find out how they can book an appointment. There are almost 100 sites on the website across England now.  
Previously, the NHS and sexual health services have reached out to men likely to be at a higher risk of infection to get protected; however, now anytime eligible can complete this process themselves.  
Dr Mary Ramsay, Head of Immunisation at the UK Health Security Agency, said: "It's encouraging that we are continuing to see significantly fewer cases of Monkeypox reported in the UK. However, it remains vital that people are alert to the risk Monkeypox poses and take action to protect themselves and others. 
"This vital new service will help make it easier for those at the highest risk to get vaccination appointments". 
Monkeypox vaccination sites located across England
At the vaccination site, people will be screened on eligibility criteria before they receive the monkeypox vaccine.  
The NHS is currently prioritising the first doses for individuals who are most likely going to get the virus. A healthcare team will then contact the individual about the second dose of the monkeypox vaccine. 
Alex Sparrowhawk, Health Promotion Specialist at Terrence Higgins Trust, said: "Vaccination is crucial for protecting people against monkeypox and its vital information about how and where to get vaccinated is clear and accessible. This new monkeypox vaccination finder for England is a positive step forward and we're encouraging all those at risk of monkeypox to come forward and get their first dose". 
Dr Will Nutland, the co-founder of PrEPster, said: "Today's launch of the monkeypox clinic finder is a hugely welcome step forward in assisting eligible people to access vaccination. Over the summer, many tens of thousands of us have been able to access the monkeypox vaccine, and we still have a collective task throughout the autumn, and beyond, to increase monkeypox vaccination to those who most need it". 
Recommended Related Articles