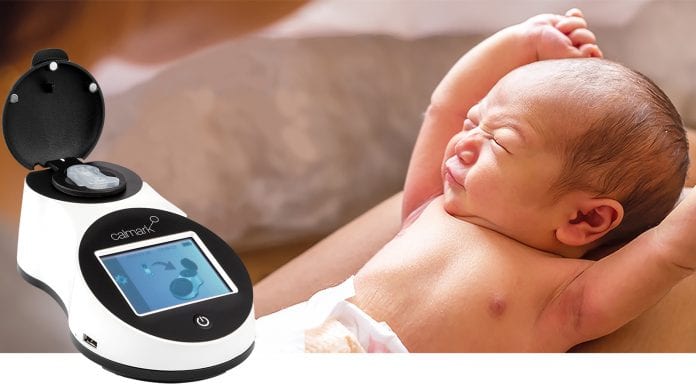 Swedish innovation on the mission to reduce neonatal mortality and enable rapid risk assessment of disease severity in COVID-19.
Medical technology company Calmark is currently developing a point-of-care (POC) analysis method with easier and faster diagnostics of medical conditions. The system, Calmark POC, consists of a portable instrument and single-use test cassettes for various biomarkers. The company is based on 13 years of research and experience in the industry, having begun with clinical research on asphyxia in newborns and the biomarker lactate dehydrogenase (LDH); and gradually developed a more targeted focus on point-of-care diagnostics. In addition to products for newborns, Calmark is also developing a lactate dehydrogenase (LDH) POC test which assesses the severity of COVID-19 cases.
The most innovative and unique aspect of Calmark POC testing lies in its revolutionary filter technology, which is based on a colorimetric measurement method: some of the filters are impregnated with chemicals, which react with specific biomarkers in the blood to produce a colour change; this in turn is captured by a camera inside the instrument.  The colour reaction is evaluated by the software in the POC-Analyzer device and converted into a numeric value, which is presented on the display. This sequence of events takes place in a few minutes and is patented by the company: in total, Calmark owns 15 patents and five design protections for the instrument and the test cassette.
Calmark Neo: easy and rapid detection of medical conditions in newborns
For most babies, the journey from birth through the first week of their life passes without complication. However, some newborns experience medical conditions which can lead to an urgent need for care and treatment, meaning that a rapid understanding of the health status of babies is imperative. The biomarkers mentioned below can detect conditions that are common and important to measure; if left untreated they can lead to serious neurological damage or, in the worst case scenario, death.
Bilirubin – jaundice: this is the most common biomarker test performed on newborns
Glucose – low blood sugar: affects about 15% to 20% of newborns during the first few days after birth
LDH – asphyxia: this can help determine if the child needs body cooling treatment (therapeutic hypothermia)
Today, numerous blood samples from newborns are sent to hospital laboratories for analysis. This takes time, requires a large volume of blood, and incurs the extra cost of labour due to manual handling. Additionally, the test results are often inaccurate, as it is more difficult to obtain blood samples from newborns than from adults.
Calmark's first POC test, Neo-Bilirubin, received its CE mark in accordance with the in vitro diagnostics (IVD) directive in April 2020; and sales within the EU have now begun. The following two tests for newborns, Neo-LDH and Neo-Glucose, are also expected to obtain CE certification in 2021. The Calmark Neo platform is uniquely optimised for the blood of newborns, meaning there is no interference from haemolysis up to 2g/l and results remain accurate even at high haematocrit levels.
There is currently no tailored POC solution for newborns; and Calmark's long-term goal is to become the global leader in this field, able to offer all the relevant tests for newborns during the first month of their lives regardless of where they are born.
Why lactate dehydrogenase (LDH)?
The biomarker LDH is an intracellular enzyme involved in energy production and is found in almost every cell in the body. When body tissue is damaged, due to disease or injury, for example, LDH is released from the cells into the blood. Thus, elevated LDH levels can be used as an indicator of tissue damage in pulmonary disorders such as pneumonia.
LDH in newborns
There is a strong relationship between bad clinical condition of infants during first week of life and elevated plasma LDH. When newborn babies are exposed to a lack of oxygen, prior to, during or immediately after delivery, for example, failure of one or multiple organ systems is seen. This happens because the circulation to the tissues is insufficient. This leads to cell damage and the cell membrane leaks LDH into plasma.
Elevated LDH concentration in the blood of newborns has been associated with perinatal asphyxia, along with other neonatal diseases. Asphyxia or foetal distress during delivery are both risk factors for developing hypoxic ischemic encephalopathy (HIE). In the early stages of HIE and other critical conditions, elevated LDH has a high predictive value and can be observed before diagnostic symptoms have developed; and the rate of LDH increase at the early stage correlates with the severity of the disease.
LDH in COVID-19 patients
Several published studies show that if elevated LDH levels can be detected at an early stage of COVID-19 infection, there is a greater chance to identify patients at risk, predict the severity and begin clinical intervention and monitoring. In this way, the prognosis improves and the possibility of recovery increases among the patients.
For further references or additional data, please contact Calmark.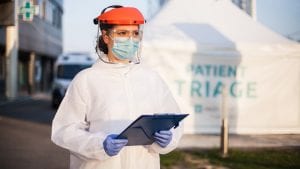 COVID-19 patient risk assessment
LDH, in combination with C-reactive protein (CRP) testing, has proven useful in identifying patients at high risk of developing acute respiratory failure. Clinical research has indicated that increasing and decreasing LDH is in line with results from radiographic deterioration or improvement of the disease; thus, LDH is an important biomarker for rapid triage of patients with COVID-19. In patients with severe pulmonary disease, the increase of LDH is significant and therefore one of the most important biomarkers to prove the prognostic of injury. Patients with elevated LDH are at least six times more at risk of developing severe forms of COVID-19, with a mortality risk increased by more than 16 times.
LDH has proven to be a good predictor for disease development, even in patients without obvious respiratory problems. These patients can therefore benefit from early hospitalisation and closer observation so that they can be treated correctly. Thus, LDH is an important biomarker for an effective triage system of COVID-19 patients. Since October 2020, LDH measurement is included in the International Federation of Clinical Chemistry and Laboratory Medicine (IFCC) interim guidelines on monitoring of COVID-19 patients.
As Calmark was already developing a test for LDH that can detect asphyxia in newborns when the pandemic struck, the company decided to urgently develop a COVID-19 LDH test in parallel. By modifying the measurement range, a POC test for LDH, uniquely adapted for COVID-19, can be created. The test is based on the same test cassette and instrument as the Neo products, and is estimated to be launched during the first quarter of 2021.
Magdalena Tharaldsen
Director, International Business Development
magdalena.tharaldsen@calmark.se
info@calmark.se
www.calmark.se/eng/home
This article is from issue 16 of Health Europa. Click here to get your free subscription today.