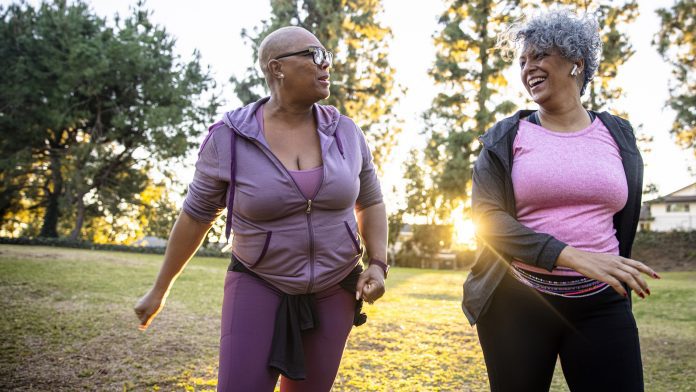 A new study illustrated the effectiveness of a group exercise programme designed for people aged 65 and over with mobility limitations.
Researchers from the Universities of Bath, Birmingham, Exeter and UWE Bristol collaborated on a major study into the REACT programme; REACT aims to target older adults who are beginning to experience mobility limitations with group exercise and to prevent further decline in mobility through exercises that target lower limb strength, balance and stamina.
Maintaining good physical health as adults age is important as reduced mobility can impact the quality of life, loss of independence and reduce life expectancy. A group exercise programme that focuses on fun, social interactions and building a community was at the core of the REACT programme.
The results of the major study were published in The Lancet Public Health.
An international effort to understand the effects of group exercise
An international effort from UK universities and the University of Maryland School of Medicine and Wake Forest (US) to analyse the REACT programme found that community-based group exercise can help older adults avoid a downward spiral of declining mobility, which can accelerate and lead to social isolation and loss of independence.
Funded by the National Institute for Health Research (NIHR), the REACT programme ran across three sites (Bath/Bristol, Birmingham and Devon) over four and half years. It involved 777 participants aged 65 and over, with the eldest participant being 98. Participants were split into either an intervention or a control group.
The intervention group attended group exercise through the REACT programme twice a week for three months and then once a week for a further nine months. Individuals in the control group attended three 'healthy ageing' sessions over a year. By comparing the two groups, researchers were able to test the effectiveness of REACT on lower limb mobility, along with health and social care usage.
Professor Afroditi Stathi, REACT Chief Investigator from the University of Birmingham, explained: "Physical activity carries a wide range of benefits for older people including a longer and healthier life, prolonged independence and autonomy, better mobility and improved wellbeing. Yet, many older people face a downward spiral of declining mobility, whereby the less active they are, the more limited they become."
Greater mobility: short and long-term positive effects
 The researchers found:
At 24-months (12 months after the completion of the REACT group exercise intervention), the participants who had attended sessions had significantly greater mobility than those who did not, suggesting both a short and long-term positive effect.
This meant REACT participants found it easier walking, climbing stairs, and had greater independence performing daily activities.
At least one strength, balance, and mobility exercise session per week (a fairly low level of commitment) were sufficient to provide meaningful benefits on lower limb physical function.
Per person, the cost of delivering the programme was £622, but the health care savings were £725 over two years. Longer-term savings could be far higher.
Dr Tristan Snowsill of the University of Exeter, who examined the economic data from the study with Professor Antonieta Medina-Lara, said: "We found clear evidence that quality of life was improved in the REACT group. This alone would most likely have been enough to justify the cost of the programme using the standard rule for cost-effectiveness. To also find that REACT participants used fewer health and care services makes the REACT programme one of the clearest cases of value for money I have come across."
The team now hope REACT can be rolled out nationwide via community activity providers based in local areas.
Dr Max Western of the University of Bath's Department for Health explained: "The aim of REACT was always to have real impacts on people's lives. Given these significant results, we are calling on healthcare professionals and policymakers to draw on our findings and implement similar REACT sessions in other parts of the country. Our studies show just how effective REACT can be; we hope many more people will soon be able to benefit from it in the way our participants did."
Recommended Related Articles