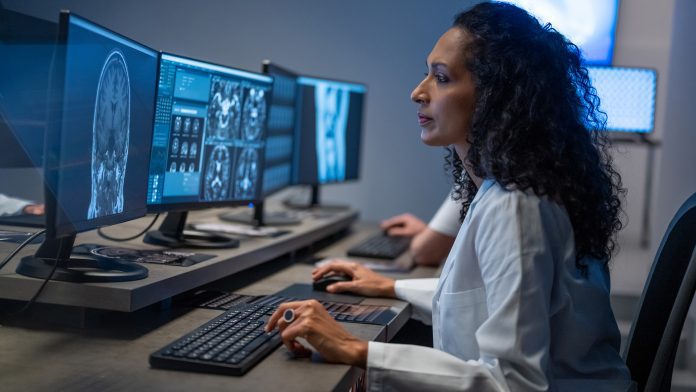 With healthcare systems across the world struggling to keep up with the rising demand for radiology services, especially during the pandemic recovery, technology to increase capacity and speed up diagnoses has a crucial role to play.
It's no secret that there is an enormous shortfall in the radiologist workforce, but the consequences of this are often badly understood. Medical advances have meant that there has been a rapid increase in the number and complexity of scans but not enough radiologists to report them.
This leads to real-world consequences for patients for whom delays in imaging can have catastrophic consequences. Days, hours, and minutes matter hugely when it comes to diagnosis, and delays prevent early treatment and lead to poorer outcomes. Studies have shown that bottlenecks in imaging leading to delays in diagnosis result in unnecessary patient deaths.
Radiology in crisis
Healthcare systems simply cannot function without radiology. There are over 3.6 billion radiology exams globally each year, including 43 million in the UK alone. Nearly every medical department relies on radiology to provide diagnoses, and without a diagnosis, there is no treatment. The bottlenecks in radiology have been exacerbated by the COVID-19 pandemic as waiting lists have hit record highs. There are now 200,000 patients waiting more than six weeks for a scan, a tenfold increase over the pandemic. These delays have huge impact on patients. 
The demand for medical imaging has steadily increased over the last decade due to the increased prevalence of chronic health conditions, ageing populations, changes to the way that modern medicine is practised and the increased focus on improving population health. This means that access to high-quality imaging is necessary for patient care.
The most recent census report from the Royal College of Radiologists showed that more than half (58%) of radiology leaders say they do not have enough diagnostic and interventional radiologists to keep patients safe and that the number one concern for doctors is staff shortages leading to delayed diagnoses[1]. The RCR census report also showed that 97% of clinical directors were concerned about the backlogs and delays that patients were experiencing, and 81% cited worries about patient safety[2].
Attempts to increase the consultant radiologist workforce are underway, but improvements are not currently keeping up with demand. Last year the UK performed approximately 70 scans per minute, but radiologist shortages mean that delays on reporting those are increasing. The Royal College of Radiologists estimates that radiologist shortfalls range from 24-38% across the UK and predicts that the shortfall could rise to 44% by 2025. 
So, with recruitment efforts for new consultant radiologists stalling, how can healthcare systems cope with soaring demand?
Radiology technology – what does it mean?
For too long, decision-makers have valued equipment more than the people, focusing primarily on increasing the number of scanners. This is, of course, important, but investing in scanners without investing in the workforce will not address the bottlenecks that exist in imaging. There is a global shortage of both radiographers and radiologists. Without radiographers, scans cannot be performed, and without radiologists, scans cannot be interpreted.
For years, healthcare systems have relied on outsourcing some of their scan reporting to teleradiology providers to boost their capacity. As expected, there has been significant growth in this area over the last decade. Being able to outsource scan reporting is undoubtedly an important part of a hospital's toolkit. However, it is just one way to address a growing problem. 
If we want long-term, sustainable solutions, we need widescale change and innovation. By focusing on technology innovations that are designed specifically for radiology workflow, there is the potential to deliver system-wide transformations by focusing on the key causes of unnecessary diagnostic delays.
Working with strained radiology resources means that healthcare systems must focus on allocative efficiency: ensuring that the time of clinical staff is used in the most efficient way possible can massively speed up the reporting process. Happily, there is a small but growing range of radiology-focused software tools offering features, including rota management, scan allocation, and intelligent supply and demand forecasting to help departments address issues before they arise.
In healthcare systems under strain, rota management can often be overlooked, but it is a vital tool to improve efficiency. Within radiology, making the most effective use of precious resources such as radiographers and radiologists is key. It can mean that patients are scanned more efficiently and that the right scan gets to the right radiologist at the right time. When resources are constrained, it is vital that they are used as efficiently as possible.  
Radiology rostering is highly specialised and niche, but getting it right to optimise output is essential. Enterprise-level rostering solutions are not always effective in a hospital. For example, organising an anaesthetic department's workforce will be very different to organising the workforce of a radiology department. Nurses are rostered in a different way to doctors. Asking departments and wards to use the same rostering software could mean that the key problems unique to each are not solved.  
In the case of radiology, both radiologists and radiographers have different levels of specialist expertise. Not all radiologists report the same types of studies, and as well as reporting scans, they perform procedures, teach and lead multi-disciplinary team meetings.
Radiographers have similar levels of complexity in terms of their profiles – some are specialised within certain modalities such as CT, MR or ultrasound whilst others can not only perform studies but also report them. Taking into account these complexities to optimise efficiency is vital but complex. But, the next generation of complex tools are being designed to do this and also provide accurate business intelligence functions for radiology departments so that they can improve how they allocate scans, forecast supply and demand and monitor performance.
Another key source of diagnostic delays is old or incompatible software and admin burden. Legacy software radiology, such as older RIS (Radiology Information System) and PACs (Patient archiving and communication systems) can stop NHS hospitals being able to integrate with new services and technology.
A recent example of this was an NHS Foundation Trust which found that their legacy RIS was unable to support integration with a radiology provider. This meant that they not only had a significant scan reporting backlog that had built up but that they were also unable to use traditional outsourcing solutions to help to clear that backlog. They, therefore, solved the problem by creating an innovative solution with a commercial partner.
A huge advantage of solutions like these is that they are cost-effective to implement, and results can be seen almost immediately. Clinicians and hospital decision-makers need to be given the time, resources and autonomy to create innovative, bespoke solutions. Top-down edicts do not always address the problems unique to a hospital and can sometimes hinder more than help. Many healthcare workers have become suspicious of the promise of health technology, but solutions that are focused on efficiency need not add additional admin burden and indeed should free up healthcare workers to focus on their core work.  
What about AI?
When it comes to radiology technology, artificial intelligence is often the first thing that comes to mind. There have been some exciting developments with regards to the use of artificial intelligence to interpret images to address the shortage of radiologists. However, these tools are being developed to assist rather than replace radiologists, so problems still remain. 
One key issue with diagnostic AI tools is that there isn't always a clear place for it to fit into a clinical pathway, often leading to increased delays and frustration.
That's not to say that technology can't help to address this problem. But perhaps the focus needs to move away from exciting AI diagnostic tools and towards solutions that are perceived as 'boring' and less exciting. For example, optimising workflow to reduce the administration burden on clinical staff could revolutionise healthcare. This was echoed by a 2020 McKinsey Report on AI in Healthcare which highlighted that freeing up clinical time will mean that staff can refocus their energy on patients.
As healthcare systems across Europe struggle with the impact of waiting lists and inflation, it is more important than ever that technology solutions address their most pressing problems. Using technology to focus on workforce and efficiency could have a huge impact on already strained systems.
Looking forwards
Focusing on improving radiology capacity through technology solutions now will not only help healthcare systems to clear their COVID-related backlogs but will also lead to greater resiliency moving forward.
The benefits of shortening diagnostic waiting times are felt across every medical department. There is also a significant mental health burden on patients who are left waiting for a diagnosis, and healthcare leaders need to consider the knock-on effects that this could have beyond delayed treatment.
A future where patients all over the world have access to swift and accurate scan reporting is achievable, but we need to focus on solutions that can make a difference in both the long and short term. With patients suffering serious and sometimes fatal consequences from scan reporting delays, waiting is no longer an option. 
References  
Dr Farzana Rahman, BSc, MBBS, FRCR, MSc,
Co-Founder and Chief Executive Officer, Hexarad Ltd,
https://www.hexarad.com/
enquiries@hexarad.com
https://twitter.com/Hexarad?s=20&t=x3hDQTWWHpbnwbj3qvKMiQ
https://www.linkedin.com/in/farzana-rahman-4539a14a