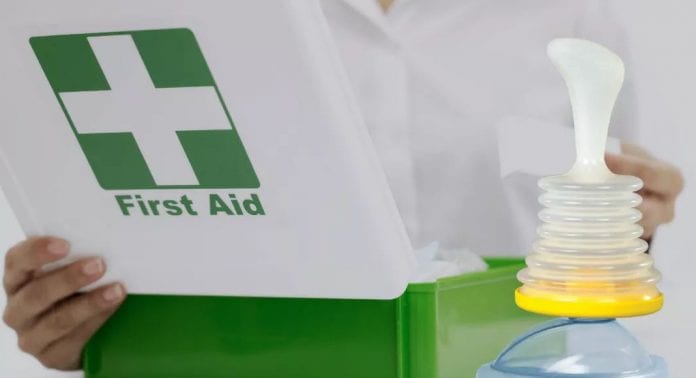 LifeVac is a non-invasive, easy-to-use airway clearance device which has already prevented more than 100 deaths in choking emergencies.
Choking remains one of the leading causes of accidental death in adults over the age of 65 and children aged five years old and below. Even with current methods such as the abdominal thrusts and back blows, Basic Life Support (BLS) choking protocol remains roughly 76% effective. This level of effectiveness drops even further for people who rely on wheelchairs for daily tasks, pregnant women, frail elderly people, and young children; as they may not be able to receive the abdominal thrusts.
LifeVac is a non-invasive portable airway clearance device, with two sonic welded discs to hold interchangeable masks of varying sizes, and a patented one-way valve system. This means that when LifeVac is applied, no air can be forced through the attached mask; but when the valve is pulled it generates over 326mmHg of suction, safely and effectively dislodging an obstruction of the upper airway.
One of the main advantages of LifeVac is that it is non-invasive: this means that no tubes protrude from the mask or device itself which may risk pushing the tongue back or the obstruction further down in a panic situation. Protruding tubes can also cause oral damage and become blocked, which further complicates an already panicked situation. One LifeVac device is suitable for all age groups.
Easy to use and effective in preventing choking deaths
LifeVac has now saved over 115 users from choking to death when standard first aid BLS choking protocol has failed or cannot be performed. These amazing lives saved have ranged in age from six months old to 96. Casualties have been conscious and unconscious, sitting, standing and lying down.
Although we do offer face-to-face training, it is not an essential requirement for the use of LifeVac, as every device comes with a detailed instruction booklet and BLS choking leaflet explaining how and when to use a Life Vac device. In addition to this each device, whether it is our at-home kit or our wall-mounted kit, comes with a QR code which takes the user directly to a training video on the use of LifeVac.
Every time a LifeVac is reported back to us as being used, we send out a confidential medical feedback form for completion; this is then kept on our clinical file. LifeVac is a single-use device due to the risk of cross-contamination, but we replace used LifeVacs free of charge once a feedback form has been completed – this helps end users with costs and enables us to gather the evidence we need to build our clinical file.
We have had the pleasure of working with and equipping over 4,500 care and nursing homes across the UK, from small independent care homes to the largest single care home provider in the UK; as well as schools, emergency medical services (EMS), restaurants, police departments, fire departments, cinemas and many other places around the world. LifeVac has dislodged full and partial airway obstructions including items such as yoghurt, porridge, hard plastic, coins, grapes, hard sweets, meat, bread and much more.
As we help care providers with guidance around the prevention of deaths caused by choking, three things are particularly important to us here at LifeVac Europe: compliance, regulation, and most importantly safety. We pride ourselves on being the only airway clearance device to be supported by peer-reviewed medical publications; independent medical testing; and medical abstracts, proving LifeVac's effectiveness, usability and safety.
Randomised crossover trial
An independent, peer-reviewed research study titled 'The efficacy and usability of suction-based airway clearance devices for foreign body airway obstruction: a manikin randomised crossover trial' was recently published in the Resuscitation Plus journal. This trial, conducted by researchers from the medical school at the University of Warwick, examined the relative efficacy and usability of suction-based airway clearance devices for foreign body airway obstruction (FBAO); by recording and comparing the effects on a manikin of LifeVac versus abdominal thrusts, LifeVac versus the Dechoker anti-choking device and Dechoker versus abdominal thrusts.
The study's authors reported: 'For the primary outcome, the FBAO was successfully removed in 99% cases with LifeVac – with 82% of these being dislodged in under a minute, 74% cases with Dechoker – with 44% of these being dislodged in under a minute, and 71% cases with abdominal thrusts – with 66% of these being dislodged in under a minute. The odds of successful removal were significantly higher in the LifeVac group than abdominal thrusts (odds ratio 47.32, 95% CI 5.75–389.40), but was not significantly higher in the Dechoker group compared with abdominal thrusts (odds ratio 1.22, 95% CI 0.60–2.47). Removal in less than one minute occurred in 82% cases using LifeVac, 44% cases using Dechoker and 67% using abdominal thrusts.
'The LifeVac consistently outperformed the Dechoker device, while comparisons between the other two groups (LifeVac versus abdominal thrusts; Dechoker versus abdominal thrusts) were mixed. Reported confidence using techniques in real life was highest in the abdominal thrust group, although between-group comparisons showed abdominal thrusts were not superior to the LifeVac.
'In this manikin study, we found evidence that individuals using the LifeVac were more successful in removing a simulated foreign body airway obstruction than individuals using abdominal thrusts. We did not find evidence of improved success by individuals using the Dechoker compared with individuals using abdominal thrusts…compared with abdominal thrusts, the success rate for foreign body airway obstruction removal was higher in the LifeVac group but not in the Dechoker group.'
Real-world application
The most recent life saved by LifeVac here in the UK was our first life saved within HC-One, the UK's largest care home provider, following HC-One's group rollout of LifeVac across all its care homes in the UK.
A resident of an HC-One care home in Scotland began to choke during mealtime on a piece of roasted cheese. The cheese became a full airway obstruction within seconds. Staff acted quickly to deliver BLS protocol, which unfortunately could not dislodge the obstruction. A nursing assistant grabbed the LifeVac device out of its wall-mounted case and applied the device, which dislodged the full airway obstruction on the first application, saving the resident's life in a matter of seconds. The resident was given a medical examination after receiving BLS protocol and was given the 'all-clear'.
Users of LifeVac have commented:
"Very good device, I'm a nursing assistant, so have dealt with choking incidences before. I have seen LifeVac being used before so I knew it was good."; and
"Really easy to use and effective."
Towards wider implementation
We feel we are growing closer to our main goal of getting non-invasive handheld suction devices implemented into BLS choking protocol. This would mean the use of devices such as LifeVac would be taught as part of first aid courses, potentially preventing thousands of deaths every year from choking emergencies.
In order to achieve this goal, we must continue gathering as much evidence as possible; as well as hoping for more independent research studies to be conducted. We will keep sharing the data we gather with all relevant authorities and resuscitation bodies. Meanwhile, we continue working with our partners and distributors across Europe, Middle East and Africa to raise awareness and save as many lives as possible.
For any information, please contact info@lifevac.uk or visit www.lifevac.uk.
Matthew Banagan
LifeVac Europe Limited
info@lifevac.uk
www.lifevac.uk
Recommended Related Articles