Dr Fiona Challacombe, Clinical Psychologist and Clinical Lecturer at King's College London, describes some of the mental health challenges faced by new and expectant mothers during the pandemic and the importance of accessible and responsive support services.
Perinatal mental health (PMH) problems can have a long-lasting impact on women, their partners, and their wider family. Up to one in five women can experience mental health problems during pregnancy and after birth; policies implemented during the COVID-19 pandemic exacerbated feelings of distress and isolation for many.
As part of NHS England's Long Term Plan, which includes a £2.3bn annual investment in mental health services by 2024, it wants to expand specialist community perinatal mental health services and ensure at least 66,000 women with moderate to severe PMH difficulties can access specialist community care, from preconception to 24 months. To discuss the impact of the pandemic on perinatal mental health, and how services can be improved to ensure women receive the help they need, Lorna Rothery reached out to Clinical Psychologist and Clinical Lecturer at King's College London, Dr Fiona Challacombe.
How common are perinatal mental health problems?
Perinatal mental health problems are very common and affect about 20% of women in pregnancy and the postpartum, as well as a large number of partners. The most common difficulties are anxiety and depression, but it is a time of significant sensitivity to relapse for those with bipolar and other severe illnesses.
How did the COVID-19 pandemic impact the mental health challenges that women during and after pregnancy were potentially facing?
There are many international studies highlighting increases in symptoms of anxiety, depression, and post-traumatic stress disorder. It was a very difficult time to be pregnant or looking after a small baby, with difficulties caused by COVID itself, being cut off from support due to lockdowns and policies of separation meaning many women had to give birth or sometimes go through a miscarriage alone, to name some examples.
What impact did the pandemic have on perinatal mental health services and what gaps in care did it highlight?
At the same time that the difficulties intensified for women, services were upended and had to quickly find new ways of working which were not ideal. Not being able to meet with and see women at home exacerbated difficulties in engagement. We know that rates of intimate partner violence, which is common anyway in the perinatal period, went up, and women were stuck with abusers. So overall, there was a worrying period where referrals went down. There is never enough care for women in that demand outstrips supply, but we are still seeing the effects from stretched maternity providers and mental health providers on women's mental health. Online interventions can work well, but it is definitely preferable for at least some of the treatments to be face-to-face.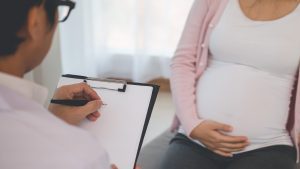 What are some of the barriers to accessing mental health support for new and expectant mothers?
We are lucky in England that we have a good range of services for perinatal mental health and perinatal loss and bereavement, but still, we know that there are barriers to seeking and receiving help and that this is not even over groups. Women want support that is tailored to the perinatal period and support that is culturally sensitive, so we need to work harder to make services appealing. A second set of barriers are logistical – it is hard to go to a place with a small baby or if you are heavily pregnant, so services need to be accessible on a very literal level, too.
What more could be done at a policy level to improve perinatal mental health support, services and care?
Enshrining paid maternity leave, good childcare to support the return to work, and for siblings if caring for a newborn, and father/partner-specific services. We need accessible and responsive mental health services; it is great that we are developing services for those affected by birth trauma and loss as this is very much needed. Helping parents connect with each other is also key.
Dr Fiona Challacombe
Clinical Psychologist and Clinical Lecturer
King's College London
https://www.kcl.ac.uk/
http://www.linkedin.com/company/7198
http://www.facebook.com/kingscollegelondon
http://www.twitter.com/kingscollegelon
This article is from issue 24 of Health Europa Quarterly. Click here to get your free subscription today
Recommended Related Articles