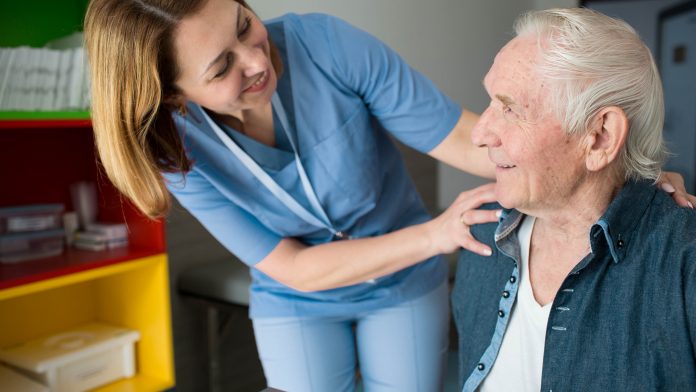 More people will benefit from quicker care at home following new investment into NHS community healthcare teams.
Almost a quarter of a million people (226,895) have received urgent medical support from home since community healthcare teams were rolled out in April 2022, two years ahead of the NHS Long Term Plan target.
The major new plan will help recover NHS services and reduce waiting times for patients, and community healthcare services will be scaled up further to include more referrals from ambulance services, 12 hours a day, seven days a week across England.
Expanding community healthcare teams in England
Community healthcare teams will be called to less clinically urgent 999 calls within two hours and treat patients who have experienced falls, need urgent diabetes support, or are suffering from confusion. Data shows the impact this service is already having, with 70% of patients requiring urgent help being seen within two hours since its launch.
Keeping people out of the hospital and in their own homes plays a key role in easing pressure on NHS services and supporting the urgent and emergency care recovery plan.
Professor Sir Stephen Powis, NHS national medical director, said: "The NHS has been under significant pressure, particularly during winter months – dealing with the 'twindemic' of flu and Covid, huge numbers of people need an ambulance and our A&E services – so we have been working hard to put longer term plans in place to deal with the record demand we are experiencing right across the country.
"A key part of delivering these plans is keeping people out of the hospital when they don't need to be there, and so over the coming months and years, these rapid response teams will provide convenient care at home for millions of people, without needing to be admitted to hospital.
"Helping to keep them out of the hospital and enabling them to live independently for longer – we know patients prefer this and that it helps with their recovery to be treated in the comfort of their home.
"Thanks to the accelerated roll-out and the hard work of our NHS staff working together, these teams are now in every part of the country – so as ever, please come forward for the care you need if you have health concerns."
35,000 people treated by urgent response teams
The latest data showed the number of people treated by urgent community response (UCR) teams each month has doubled since the national roll-out in April, from 17,500 to 35,000 in December.
An example of enhanced community healthcare support teams is in the East of England where they have been working with the ambulance service to increase referrals to the service. Suitable patients are being transferred to UCR by clinical staff working in the control room. The details can be reviewed by community healthcare providers, and if they are unable to review the patient or attend the call, the patient is returned to the ambulance call stack without losing their original place, so there is no disadvantage to the patient. Furthermore, a dedicated team has been set up by Central London Community Healthcare NHS Trust and the borough-based partnership in Harrow, providing guidance, advice, and training to care home staff.
James Sanderson, NHS England director for community health services, said: "Urgent community response teams are an invaluable resource for the NHS – they are key in helping patients to receive the care they need, in the right place and at the right time.
"Thanks to the huge efforts of staff from different sectors working together across the country, more people than ever are getting the care they need and avoiding the need to go to the hospital at all.
"This is both better for people who want to stay well in their own homes as well as the NHS, as we continue to tackle the pressures of Covid and recover our elective and urgent and emergency care services."
Recommended Related Articles