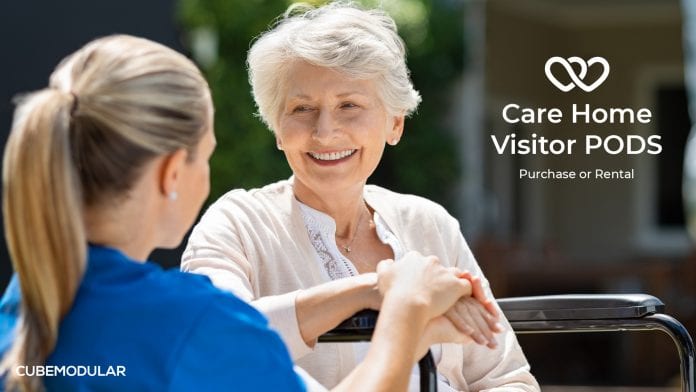 To safely reunite care home residents with friends and family is a dilemma facing many care home providers.
Allowing visits in care homes is a fine balance between the benefits for residents and their loved ones, against the risk of visitors introducing infection into the care home or spreading infection from the care home to the community. Whilst the COVID-19 pandemic continues to pose a major threat to care home residents, and a risk to visitors and staff, not being able to receive visitors and reunite residents with loved ones has been one of the hardest aspects since the beginning of the pandemic.
Keeping care home residents safe during COVID-19
Keeping vulnerable residents safe from COVID-19 is a care home's number one priority. However, for the elderly, living in residential and nursing homes, experiencing 'in person' visits is also of great importance. When taking into account a resident's physical, emotional, social, and spiritual support needs, an absence of visits can significantly, and adversely, affect a vulnerable person's overall health and wellbeing. This is especially true for those people in care who have communication difficulties and for whom 'virtual visits', through telephones and video calls, pose many challenges.
Care home providers and managers face a difficult decision when deciding whether their home can reopen to visitors. Numerous factors need to be taken into consideration, including:
The local situation – including any local restrictions
The status of the home (recent outbreaks, virus test results etc.)
The support available for staff
The measures in place to reduce risks
The benefits of visits to residents
Those care homes which have reopened for guests, have seen visitations take place in a number of ways, including window visits, garden visits, drive-through visits, designated visit areas and in-room visits; the latter often only facilitated in relation to essential, end of life care. In all cases, relevant PPE measures and social distancing have needed to be observed.
However, with space limitations posing a problem for some, accessibility a challenge for others, and the winter months approaching, more and more care homes are seeking an alternative, innovative solution in order to provide a dedicated area which allows for visits to take place, safely, securely, and in any weather conditions. As a result, temporary structure, and portable building manufacturers such as Cube Modular have seen a surge in enquiries for 'Care Home Visitor Pods'.
Brandon Weston, MD of Cube Modular, explains: "Over the last few months, we have worked with a number of care homes in order to develop a solution which enables care home residents to meet loved ones, in person, in a safe, secure and COVID-free environment.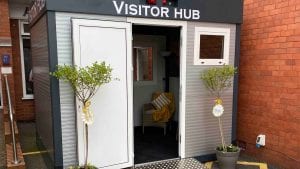 Our Care Home Visitor Pods are proving to be the ideal solution: foldable portable container buildings which can be set up in any setting, in a minimum amount of time and with no planning permission required.
"Due to their modular nature, a number of pods can be joined together to provide a building of any size with separate external door access for residents and visitors. The pods' surfaces are extremely easy to clean and sanitise between visits and the pod itself is equipped with electricity, heating, and decorative graphics to provide a homely and comfortable environment. Where required, glass panels can also be installed to allow for separate internal areas and communication can be arranged via an intercom system."
 Utilising a care home visitor pod
 For care homes, where surplus internal space is lacking and lounges and gardens are in use throughout the day, setting aside an existing area for family visits can be a problem. For those homes with dementia patients, who often roam freely throughout the residence, this can be particularly difficult. The ideal solution would, therefore, be to use a portable building: an external structure entirely separate from the home itself.
When using a dedicated visitor pod, care homes can plan individual visits in advance, for a specific amount of time, and allow time for a thorough deep clean between visits. Annacliffe care home in the UK, for example, a recent recipient of a Cube Modular pod, utilises its visitor unit for 20-minute visits followed by a 40-minute cleaning procedure. The guest pod was installed at the forecourt of the residential home in Blackpool and has reunited its residents and loved ones, in person in the same room, for the very first time since the onset of the Coronavirus pandemic.
Alexandra Burke, owner and manager of Annacliffe care home, said: "We are absolutely delighted for our residents. Finally, after months of uncertainty and anxiety for our wonderful, but infection-vulnerable, residents, we are able to offer them a space, a totally separate space, in which they can meet their family and loved ones in person. No more waving through windows. No more wordless meetings. I am so delighted for them all, as well as for their families and our staff. The Care Home Visitor Pod has given us the perfect solution to continue through these most worrying times. The pod really has brought a ray of sunshine to our residents."
Brandon Weston, Cube Modular's MD, added: "The response to our Care Home Visitor Pods initiative has been immense.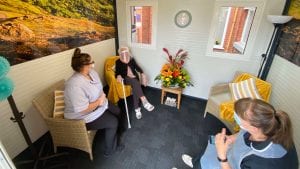 We are delighted that we are able to offer care homes a unique, portable building solution which not only enables personal and controlled contact between care home residents and loved ones, but also does so in a most comfortable and relaxed setting.
"It is becoming more and more apparent that the COVID-19 pandemic will be with us for quite some time. And, with the care sector continuing to be under intense scrutiny, we are delighted that we have been able to deliver a solution that helps the lives of residents, their families, and their care home providers and carers. It is something we are enormously proud to be able to facilitate."
Cube Modular
Cube Modular, part of the Cube International group, is a specialist designer and manufacturer of modular portable buildings, buildings of exceptional design, construction, and functionality. The company's Care Home Visitor Pods were developed using an award-winning foldable container solution. Cube Modular's Care Home Visitor Pods are available on both a rental or purchase basis.
For further information about Cube Modular please visit www.cubemodular.co.uk, telephone +44 (0)1905 955814 or email theteam@cubemodular.co.uk.
Special Report Contact Details