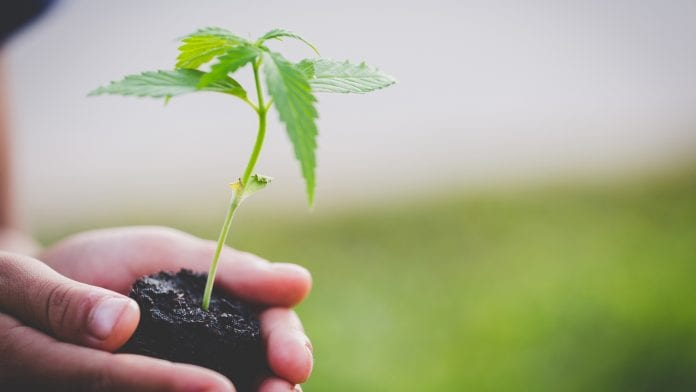 A Portuguese cannabis company, Symtomax, is positioning itself to become the biggest supplier of medical cannabis in the European cannabis market.
Symtomax, a medical cannabis company with the largest plot of land set for cultivation in Europe, is in the last stages of preparation before its final inspection by Portuguese Health authority, Infarmed, for the cultivation, processing, and distribution of medical cannabis to the European market and beyond.
Established in 2017, Symtomax are looking to invest over in the next five years in its EU GMP facility, and have put together an impressive team with the combined skills to help make its vision of delivering industry-leading healthcare solutions into reality.
Medical Cannabis Network sent journalist Stephanie Price to see for herself the enormous scale of the project and the preparation processes that European medical cannabis companies in Portugal are required to meet at each stage of a project.
Stephanie, who spent a couple of days with the Symtomax team onsite in Beja, Portugal, to see and understand the complex processes necessary in applying for a medical cannabis cultivation license in Portugal and what the whole process entails. The scale of the site is in itself impressive, but speaking with the people involved gives you a real insight into the amount of work necessary before you even start to sow a seed.
Approval to start the implementation process for cultivation, as well as approval for an import and export licence in Portugal, was secured by Symtomax through Infarmed – the Portuguese Government agency accountable to the Health Ministry.
To gain approval from the Portuguese licensing authorities for agricultural sites, applicants have to comply with the Good Agricultural and Harvesting Practices guidelines. Some of these measures include implementing high-level security on site, informing of the expertise of staff members, an overview of tracing and tracking software, demonstrating plans of the cultivation site including agricultural fields, greenhouses, propagation rooms, and demonstrating quality control processes.
In preparation, Symtomax is now just weeks away from planting its first seeds. Security has been implemented, the greenhouses are ready to go up, and all plans for the water systems, propagation, cultivation and drying facilities have been put in place, and all documents are ready for inspection.
Experts at Symtomax include some of the most experienced cultivators in the industry, and the likes of Portugal's former State Secretary of Health and Chairman of the Infarmed Board of Directors, Eurico Carlos Alves, currently a Professor of Surgery at the Integrated Master of Medicine of the Institute of Biomedical Sciences, and David Mace, an ex GW pharmaceutical Audit Chairman.
Poised for a head start in the European cannabis market
Following in the footsteps of Canada, America and Australia, ever more European countries are adopting the use of CBD products, medical cannabis oils and cannabis flower. However, as infrastructure catches up with policy, numerous European countries are importing cannabis supplies from abroad, leaving space in in the market for a European supplier.
Currently, the European market for CBD is worth approximately €450m, which accounts for 31% of the global CBD oil market. To put things into perspective – Canada has a total of 326 hectares of licensed indoor and outdoor cultivation areas, with cannabis sales in Canada over 2020 expected to reach $2.8bn.
Symtomax's production site is located in the Alentejo region of Portugal, famous for its agriculture and fertile soil and is home to miles of olive and cork farms. Now, cannabis is set to be added to list, with the Symtomax farm creating jobs for the local community. The size of the site is nearly a third of Canada's total cultivation space – a total of 105 hectares, 95 of which are pre-approved for cultivation. This is enough space to produce up to 700,000 kilogrammes per year, positioning Symtomax to be one of the largest suppliers of medical cannabis in the European cannabis market.
Paul Segal said: "The key for us is very simple. We want to raise enough money that we become self-sufficient. What we are doing here is something that has been done many, many times before, however, we are doing this in a much more cost-effective way through outdoor cultivation. We are also lucky enough to have an on-site water supply that will save approximately €300,000 a year.
"We have watched the markets quite closely throughout Canada, America and Israel, and in some respects, it gave us the benchmark for creating the business that we have now. We watched the indoor market versus what was going on in the world, and we felt there was a better way for us to produce a low-cost product and bring it into the European market."
Symtomax's expertise in the field of cannabis cultivation
Symtomax has been putting in the groundwork for the past three years to ensure it is fully set to supply Europe with its medical cannabis product. Two expert cultivators have been enlisted who have over 35 years combined experience. Their deep knowledge and expertise of growing will help to produce the highest quality, outdoor, organic product.
Washington-born cultivator, Matthew Butters, will be bringing over ten years of experience to the field after spending a decade working with cultivation collectives and fine tuning his drying and curing techniques. Butters will be companion planting to help keep pests away from the crop, and emphasises his passion for the land's ecology, leaving space for migration routes through the site.
CEO Olaf van Tulder has 25 years of industry experience that will be utilised. Van Tulder, former CEO of one of Europe's most well-known cannabis companies, has won various awards for the creation of the most renowned strains in the history of cannabis.
Van Tulder said: "I've been in the recreational cannabis market for over 20 years, but I see the future of the market in Europe as being purely medical for the foreseeable future.
"Our site has 95 hectares of cultivation space with pre-authorised licences, and we will be starting in the greenhouses with 3000 square metres. We will do the propagation of the plants indoors and once they are ready, they will be planted outside of the facility. After drying they will be processed into extract, such as oils."
Van Tulder emphasised the importance of the sun for the cultivation of medical cannabis as the sun improves the plant's terpene profile.
He said: "When looking at outdoor versus indoor growing, it is better to grow outdoor for medical cannabis products. Indoor facilities are rarely profitable – it is very expensive to grow indoor because of the electricity and the rental cost of the facilities, which raises the cost of the product.
"At Symtomax we produce medical cannabis products. It is much better if the plant is grown outside because the natural sun gives the cannabis a more complex terpene profile – you cannot copy the sun.
"To have a profitable company you need quality land with a lot of sun to produce quality medical products."
State-of-the-art and patented technology
Symtomax is taking the building of its facilities very seriously and has been in talks with industry-leading engineers, regarding drying, curing and extraction facilities where the medical cannabis extracts will be produced. The company has completed over 160 facilities in America and Canada so far – building on industrial scales. GMP-EU certified medical cannabis oil will be developed by Symtomax in its state-of-the-art extraction facilities.
Hoping to secure its first orders by the end of this year, Symtomax's propagation houses are being prepared for the sowing of the first seeds this May following its next Infarmed inspection. AgroPharm concluded the design and integration of the propagation houses back in February, which will be utilised for both propagation and flowering.
Symtomax has also secured distribution for its innovative cannabis Oral Tab. The tab has a unique delivery system – delivering the medicine through the lining of the mouth. The Symtomax Oral Tab allows for more flexibility in terms of time release of the medicine, but also increases the amount of medicine available to enter the blood stream, contributing to better bioavailability. This allows for lower doses and will ultimately translate into lower costs for the patient.
Following the production site's inspection by Infarmed in May, Symtomax will be ready to cultivate its first seeds for a harvest turn around in September.
For more information about Symtomax click here.
Symtomax
Medical cannabis production, research, cultivation, processing and distribution
symtomax.com
Do you want the latest news and updates from Medical Cannabis Network? Click here for your free subscription, and stay connected with us here.
Recommended Related Articles