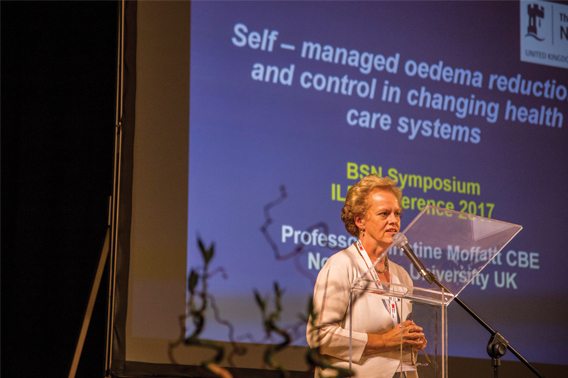 Anna Kennedy, a board trustee of the International Lymphoedema Framework, reflects on improving the management of lymphoedema worldwide.
The International Lymphoedema Framework (ILF) aims to improve the management of lymphoedema and related disorders worldwide by sharing resources and expertise and supporting individual countries to develop a long-term strategy for the treatment of lymphoedema. Engaging with patients is central to all aspects of its work, including the areas of research and development. The governing board of trustees is led by Professor Christine Moffatt (chair) and consists of opinion experts and leaders in their field from around the world, all of whom volunteer their time and expertise.
National frameworks
There are currently 12 countries with established national frameworks, namely Australia, Belgium, Canada, Denmark, France, Greece, Ireland, Italy, Japan, the Netherlands, Turkey and the United States. Several more countries are in various stages of development. National framework partners are united in their vision to change how lymphoedema is diagnosed, treated and reimbursed around the world. They support the mission of the ILF and withhold its philosophy, including the commitment to having patients at the heart of all activities and collaborating in multidisciplinary partnerships between all stakeholders in their country.
The work of the ILF
The ILF has a proven track record of challenging important issues and creating methodologies that engage with multiple stakeholders to gain consensus. This is reflected in the ethos of working in partnership with industry and patient groups as well as academics and clinicians on documents such as the Best Practice Document (2006), which gained international endorsement, and multi-country research projects such as LIMPRINT. The ILF is committed to generating high-level evidence and continuing reviews of international research.
LIMPRINT
The ILF has identified a number of key priority areas that are inhibiting the recognition of chronic oedema as a major emerging public healthcare problem. These include the need for international epidemiology to provide evidence of the size and impact on healthcare services. This is being addressed within the LIMPRINT study, an international epidemiology study focused on providing evidence to support the development and reimbursement of services and to demonstrate that chronic oedema and lymphoedema are a major global issue.
The collaborative LIMPRINT project involved 40 sites located in nine countries with data collected on more than 15,000 patients. Preliminary analyses on this dataset revealed that the majority of people with lymphoedema were female (73%) and had secondary lymphoedema (84%), 16% of the cases had wound issues in addition to lymphoedema and 34% were also obese. Cellulitis was found to be a major problem. Many cases of oedema were actually non-cancer-related and were commonly discovered in people with co-existing conditions. Patients were seen within different settings, including both hospital and community sites, residential and care homes, and even a prison. These results further emphasise the burden on patients, healthcare systems and societies in general. It reinforces lymphoedema and chronic oedema as a global public health problem.
The outcome data from this study will be published as 17 papers as a supplement of the Lymphatic Research and Biology Journal and will be presented at the ILF 2018 conference in Rotterdam, the Netherlands.
This extraordinary achievement was made possible through the engagement and involvement of volunteering experts and patients.
Chronic Oedema Outcome Measures (ILF-COM)
A second aspect that has not received sufficient attention is the lack of agreed international standards and methods for assessing and reporting the outcome of treatment of patients with different forms of chronic oedema. The lack of agreed outcomes of a successful treatment is prohibiting many developments, including reimbursement of chronic oedema care in many countries, evaluation of clinical and patient-centred outcomes within services, benchmarking of chronic oedema care, and robust clinical studies using internationally agreed outcomes.
This project aims to develop an internationally agreed set of outcome measures for patients with chronic oedema. The overall goal for this endeavour is to agree and validate international measures that will be used by the lymphoedema community in both clinical practice and research. This in turn should assist in providing robust guidance for reimbursement agencies.
This project, like all others, will be developed in close collaboration with industry partners.
Education
With an ageing population linked to increased longevity, there is a rising prevalence of lymphoedema and chronic oedema including the growing 'at risk' population. To achieve maximum scope for early identification and intervention and improve patient outcomes, quality of life and reduce the burden on health services, it is considered essential that healthcare professionals of all disciplines have a basic understanding of lymphoedema, its causes, how to recognise it, and components of treatment, as well as being able to provide patients with basic education and support.
Lymphoedema Education Benchmark Statements (LEBS) have been developed through a process of expert panel consensus. This document identifies minimum standards and content, which should be built into existing professional healthcare curricula without the need for additional teaching sessions.
The expected outcomes are to:
Facilitate a degree of global consistency and governance in relation to lymphoedema education in healthcare professional curricula;
Provide an external source of reference and guidance to be used (in conjunction with the requirements set by professional, statutory and regulatory bodies) for the development and enhancement of courses and programmes with agreed expectations and standards against which they may be measured; and
Produce resources that may have multiple educational uses at different levels for patients and professionals.
Stage 1 saw the launch of a user-friendly web-based document (www.lympho.org). Stage 2 of the project will focus on supporting the global ILF community to develop, disseminate and evaluate LEBS in their own country and to develop assessment and evaluation tools.
Children
Lymphoedema affecting children, teenagers and young adults is a rare condition that has received very little attention due to poor general and medical knowledge. It is recognised by the World Health Organization (WHO) as a rare disease but also an orphan one, meaning there is currently no cure. The chronic nature of lymphoedema impacts many aspects of a child's life but particularly social, family and educational.
The focus document Care of Children with Lymphoedema (2010) was the initial step of the ILF's international strategy to define and improve the care of children with lymphoedema that firmly encompasses the views and needs of the children and their families. It can be downloaded free of charge from www.lympho.org. The focus is on empowering children, their families and the health professionals who care for them. That means creating additional tools (such as books and videos) and guiding people to the resources and services already available around the world. One important aspect is the ILF Children's Camps. These important events bring children and their families together, not only to learn more about self-care for lymphoedema but also to build networks of families coping with the same situations. The ILF also uses these camps to gain first-hand feedback on research related to quality of life with children, its prevalence and impact.
Publications
Many significant documents have been published by the ILF over the years as relevant resources to the international community. Examples include Best Practice for the Management of Lymphoedema (2010); Compression Therapy: A Focus Document on Compression Bandaging (2012); The Management of Lymphoedema in Advanced Cancer and Oedema at the End of Life (2010); and Surgical Intervention: A Position Document on Surgery for Lymphoedema (2012).  These publications are free for download from the ILF website (www.lympho.org). The Journal of Lymphoedema is also affiliated with the ILF.
Conferences
Annual ILF international conferences allow for creative and important methods of collaboration with the wider community and are a central vehicle for organising and presenting the ILF's work. The next conference is being co-hosted with the Dutch National Lymphoedema Framework and will be held in Rotterdam, The Netherlands, on 6-9 June 2018. The venue is the legendary former steamship ss Rotterdam, with all sessions, guest accommodation and entertainment taking place on the ship. The hosts look forward to welcoming you on-board. Registration is open; visit www.ilf2018conference.org for more information.
Learn more
To learn more about the ILF and stay informed about the goals and activities of the ILF as well as the work of our national frameworks, partner organisations, affiliates and industry partners – join the international lymphoedema community as an individual affiliate. You will be added to the distribution list of quarterly communications and also be eligible for reduced registration rates to ILF conferences. Sign up at http://www.lympho.org/becoming-an-affiliate/
Anna Kennedy
ILF Board Trustee
Executive Director, Canadian Lymphedema Framework
Editor, Pathways Magazine
contact@lympho.org
This article will appear in issue four of Health Europa Quarterly, which will be published in February.
Recommended Related Articles